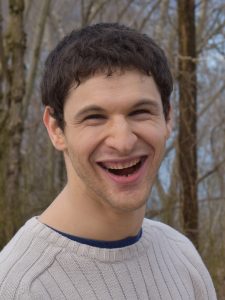 My name is Carl Sigmond, and I am a multidisciplinary artist, educator, activist, dancer, and computer science engineer living on Schaghticoke and Munsee Lenape ancestral land in New York State's Hudson Valley.
I am the Operations Manager for FREED, the independent living center serving five mostly rural counties northeast of Sacramento, California. Independent living centers are peer-run non-residential disability resource centers serving people of any age with any type of disability. FREED's mission is to promote independence and self-determination for people with disabilities through person-driven services, collaborative community partnerships and education, and leadership that advocates for fully inclusive communities. We work towards a world where all people, regardless of age or ability, can live, work, and play in the community of their choice.
As FREED's Operations Manager, I administer the organization's IT infrastructure – from our phones and computers to our website and case management system. I analyze service data and produce regular reports to our Federal, state, local, and private funders. I develop and implement new systems to streamline processes and reduce burden on staff. I coordinate FREED's systems change advocacy program, which includes supervising FREED's Disability Community Advocate. I also produce and co-host FREED's monthly radio show, Disability Rap, which airs on KVMR 89.5 FM Nevada City, CA on the first Monday of each month at 6:30 p.m. Pacific Time. It is also available as a podcast.
In addition to my role at FREED, I am a part-time Research Engineer in the Speech Disorders & Technology Lab at the University of Texas at Austin. I am part of a team that is researching automatic speech recognition (ASR) systems for people with dysarthria (atypical speech), as well as for people with silent speech resulting from laryngectomies. Our goal is to develop generalizable algorithms that can recognize atypical speech and turn that speech into text and/or synthesized speech. We expect our research to improve the verbal communication potential of people with speech disabilities.
I am also working on a feature-length film about my grandfather, Albert Schatz, who in 1943, discovered the first antibiotic effective against tuberculosis. Streptomycin, as he would name it, saved millions of lives and resulted in the closure of tuberculosis sanitariums around the world. My film looks at my grandfather as a person and parallels his historic discovery with my own quest to discover more about who my grandfather was and the impacts he made on society.
Movement and spirituality are very important to me. I am a contact improvisation (CI) dancer. CI is an improvisational partner dance form that focuses on nonverbal communication, weight sharing, and play. Developed in the early 1970s by Steve Paxton, CI brings us into the present moment and allows us to have entire conversations with our bodies. Incorporating my background with Body-Mind Centering and The Feldenkrais Method into my dance, I rejoice in exploring new ways of being, moving, and communicating on and off the dance floor. I find CI to be a liberating form of expression and healing for me on my journey through life.
Since July 2022, I have been a Resident Member of WildHeart Center for Performance and Embodiment Practice, a land-based culture hub that incubates new performances, cultivates deep community and hosts transformational events on our 46-acre campus in Wallkill, New York.
Prior to serving as FREED's Operations Manager, I was the Disability Community Advocate at FREED. My role was to a) advocate for local, state, and federal policies that benefit the lives of people with disabilities and all Americans, and b) organize advocacy teams of people with disabilities and our allies to collectively fight for such policies. I worked on issues of healthcare, transportation, affordable and accessible housing, community integration, and more. I started hosting and producing Disability Rap while I was FREED's Disability Community Advocate.
From 2018 to 2020, I was the Operations Manager for the Earthdance Creative Living Project in Plainfield, MA. Earthdance is an artist-run workshop, residency, and retreat center located in the Berkshire hills of Western Massachusetts. Earthdance provides a dynamic mix of dance, somatic, and interdisciplinary arts training, with a focus on sustainable living, social justice, and community.
From 2014 to 2017 and then briefly in 2020, I was the Operations Manager at Woolman at Sierra Friends Center, a Quaker education and retreat center in the Sierra Nevada foothills of Northern California. Until 2016, Woolman's flagship program was The Woolman Semester School, a four-month program that incorporated issues of peace, social justice, and environmental sustainability into a one-semester immersive experience. Rooted in Quaker values, the program drew high school juniors, seniors, and gap-year students from around the country who wanted to take control of their own education and focus on issues that mattered to them.
I attended the Spring 2009 Woolman Semester when I was in high school, an experience that profoundly changed my life. After college, I returned to Woolman to give back to a program and community that gave me so much. In addition to my role as Operations Manager, I taught the Video Documentary Class at The Woolman Semester School for three years. The semester program unfortunately closed in 2016, but Woolman carries on through other programs, including an overnight backpacking summer camp.
Originally from Philadelphia, PA, I attended Central High School and then Haverford College, where I majored in Computer Science, developed an Independent Minor in Quaker Studies, and cultivated my skills for documentary filmmaking. I also invented and wrote the software for LeverBoard, an adapted keyboard which I use as my primary text input device.
I am a Quaker, and I have been attending Meeting since I was four years old. I am a member of Germantown Monthly Meeting in Philadelphia, PA. In high school and college, I was active in regional and national Quaker youth organizations and served in positions of leadership within those organizations. From 2015 to 2018, I served as the Assistant to the Clerk of College Park Quarterly Meeting, a regional gathering of Quakers from Northern California and Nevada that meets three times per year.