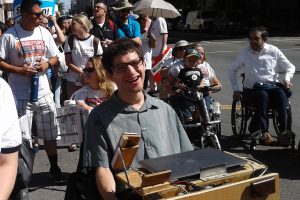 I have long known that I wanted to help make the world a better place. I grew up in a Jewish activist family in a progressive community in Philadelphia, PA. Starting at a young age, my father would take me to marches on Washington and at the state capitol in Harrisburg, and all four of my grandparents were feminists. That instilled in me a sense of justice and a drive to do good in this world.
In 2017 and then again from 2020 to 2021, I was the Disability Community Advocate at the FREED Center for Independent Living in Grass Valley, CA. FREED is a resource center for people with disabilities and older adults residing in Nevada, Sierra, Yuba, Sutter and Colusa Counties. My role at FREED was to a) advocate for local, state, and federal policies that benefit the lives of people with disabilities and all Americans, and b) organize advocacy teams of people with disabilities and our allies to collectively fight for such policies. I supported local, statewide, and national grassroots campaigns advocating for more inclusion of people with disabilities at all levels of society. I worked on issues of healthcare, transportation, affordable and accessible housing, community integration, and more. I have transitioned into the Operations Manager position at FREED, and so I now coordinate our advocacy program, including supervising our new Disability Community Advocate. I also produce and co-host FREED's monthly radio show, Disability Rap, which airs on KVMR 89.5 FM Nevada City, CA on the first Monday of each month at 6:30 p.m. Pacific Time. It is also available as a podcast.
I am a member of the Religious Society of Friends (Quakers), and my beliefs are greatly shaped by the Quaker value that, "there is that of God in everyone." Out of this comes our five Testimonies: Simplicity, Peace, Integrity, Equality, Community, and Stewardship, sometimes referred to as the Quaker SPICES. These Testimonies guide me as I live my life and work for a more peaceful and equitable world.
While studying at Haverford College, I developed an Independent Minor in Quaker Studies. In it, I explored the relationship between Quaker faith and social action and also deepened my own spirituality. I studied with renowned Quaker nonviolence theorist and practitioner George Lakey, reading the writings of Gene Sharp and authoring thirteen case studies for Swarthmore College's Global Nonviolent Action Database. I also studied the writings of historical Quaker activists like John Woolman who during his lifetime walked thousands of miles through the North and South, dialoging with slaveowners and encouraging them to reject the institution of slavery. Click here to read more about my Independent Minor.
During the second half of my senior year of high school, I attended The Woolman Semester, a four-month Quaker program in the foothills of the Sierra Nevada Mountains of Northern California that incorporated issues of peace, justice, and sustainability into the high school curriculum. Click here to learn more about my time at Woolman, both as a student and then as an intern and member of staff.