By Carl Sigmond
Printed in: The Woolman eWitness, Sierra Friends Center, Nevada City, CA, June 2009.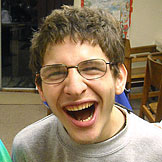 You don't return to your old way of life when you come home from the Woolman Semester. After spending four months changing how you view the world, you are a new person. You return to the familiarities of home, school, your old community, but you have grown so much that everything seems different. You question habits that you assumed were natural and notice actions that are not in tune with how you now let your life speak.
For me, coming home is bittersweet. I remember the first week after graduation, I would wake up and wonder why I wasn't in my cabin. I would wonder where my classmates were; where Jerome's cows had gone. Then, as I began to settle in, I started to accept the changes that confronted me when I returned home. The end of high school fills me with a sense of completion, knowing that I will apply what I learned at Woolman to the rest of my life fills me with gratitude, and the loss of my father fills me with sorrow.
Almost four weeks have gone by since I stood on that stage, delivered my graduation speech, and received my diploma. So much has happened since all thirteen of us were on that stage. There are so many feelings and so many memories. As I thought about how to conclude this article, my mother walked in with my Woolman transcript. I read it, remembering each course in vivid detail. I miss Woolman, but I know that it will always be in me. I will always let my life speak.